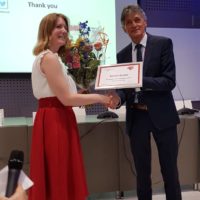 Aimée Sakes wins Einthoven Dissertation Prize
Eindhoven, October 24th, 2019
By
Last June, Aimée Sakes was awarded the Einthoven Dissertation Prize for her work on the development of innovative flexible catheters for the treatment of ischemic heart disease! It was the first time anyone from a technical university was awarded this award.
The Einthoven dissertation prize is a joint initiative of the Netherlands Heart Institute and the Dutch Society for Cardiology. The Prize is named after one of the few Dutch Nobel Prize Winners, Willem Einthoven. He invented the first practical electrocardiogram (ECG or EKG) in 1903 and received the Nobel Prize in Medicine in 1924 for it.
Many thanks to the Netherlands Heart Institute, Dutch Society for Cardiology, and the audience of the 3rd Translational Cardiovascular Research Meeting for granting Aimée Sakes this award, as well as to her supervisors Paul Breedveld, Jenny Dankelman, Dimitra Dodou, and Jo Spronck for their support.
Please also see: https://decardioloog.nl/jaargangen/2019/4-aug/jonge-onderzoekers-ontvangen-em-einthoven-dissertation-prizes-em.html