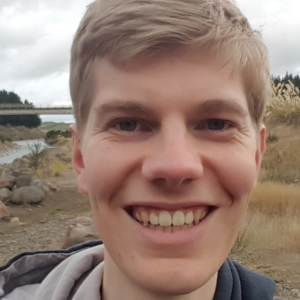 Allan J. Veale (Alumni)
Allan J. Veale received the B.E. degree in mechatronics engineering (with first class honors) and the Ph.D. degree from the University of Auckland, New Zealand, in 2013 and 2017, respectively. His thesis focused on the development of a wearable fluidic actuator with embedded sensors for rehabilitation devices along with related modeling tools. During this research, he published four journal articles and three conference papers. He is now a Post-Doctoral Fellow at the University of Twente, The Netherlands, where he also works on high power soft and wearable actuation systems. In addition to these clothing-like, inflatable structures, he also has background in the fabrication, testing and modeling of dielectric elastomer sensors, and research interests in user-centered medical devices and novel wearable energy sources.
These research topics underpin Allan's aim to explore the extent and manner that active, soft, clothing-like structures can mechanically assist human movement. He envisions such structures empowering people with health and mobility impairments to engage fully in society, in first or third world countries. These structures will also protect the able bodied in everyday, heavy labor, and dangerous environments. Realizing such soft assistive structures will additionally contribute to the science of soft robotics, revealing new materials, material combinations, and manufacturing methods.
Apart from getting robots out of the factory and into the real world, Allan also likes to get out of the lab. In his spare time he enjoys making and repairing things; exploring the outdoors by foot or on bike; and helping out people in the local community, particularly partnering with churches to serve those with disabilities.